By Kendra Hacker
It was a cold and dreary morning when Ashley Reynolds and Erin Robson walked around Lower Hobson Union with two other students, handing out candy with positive sayings on them, ranging from 'enjoy every moment' and 'stay positive'. With smiles on their faces, they offered BSU students and workers these treats to brighten their day. The group walked around until they were empty-handed.
"I saw a lot of smiles and for me that made it all worth it," Reynolds said.
The students were taking part in an assignment for their Media Production for Social Entrepreneurship class that Professor Debra Sea teaches. Sea has collaborative projects for her students that incorporate different forms of altruistic acts within the community that will help them think about how to solve social and environmental issues for their final business projects. By giving back to people on campus and in the community, Sea believes that the world improves as a whole. "Giving back makes us more human and more humane," Sea said.
In an article about altruism, happiness and health, Stephen G. Post, a professor in the School of Medicine at Case Western Reserve University, said that participating in helpful acts allow people to feel satisfied with their well-being and life, while also feeling good about others. Sea hopes that this class helps improve the students' appreciation for the struggles that some people might be having.
Sea has been an Assistant Professor in the Integrated Media Department for five years. When she finished graduate school, she got her first teaching job at the University of North Carolina at Greensboro in 2013. It was at this teaching job that she first taught Media Production for Social Entrepreneurship. Sea came up with activities and projects that incorporated giving back. She brought these ideas to BSU, because she believes that students everywhere want to make a difference.
"Through experiential projects, students learn themselves how little time and effort it takes to make a difference," Sea said, "They learn by doing and that is more effective than me telling them how easy it is."
The students have done projects where they had to spend a maximum of two hours trying to raise money for a non-profit organization of their choice. They have also implemented projects where they had to make a difference in strangers' lives.
Robson, a senior at BSU, has loved doing the class projects.
"I love the projects that we have done in class," Robson said, "Giving back no matter how big or small makes me feel so much better."
Post said that people who participate in helpful behavior generally feel good about themselves after. There was an early study that compared people who volunteered to people who did not volunteer. The results showed that those who volunteered had mental health benefits, like a reduction in depressive symptoms and increasing a person's level of happiness and well-being.
The class has also impacted Robson's outlook on future jobs.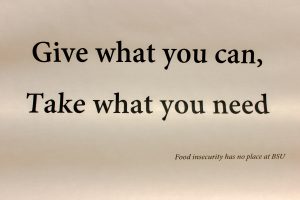 "This class has taught me to look more into a business and see what they do for the community," Robson said, "I want to make a difference."
Robson wasn't the only student affected by this class. Reynolds, a senior at BSU, also liked the class projects.
"I really like that our class gives back to people," Reynolds said. "This class has helped me make a difference in the community and to the people around me."
Another project the class had to do was use $5 to raise money for a cause of their choice. Students walked around campus and Bemidji asking for donations or selling hot chocolate at local events, like the Women's March. Together, the groups raised $1,030 for local non-profit organizations like the Bemidji Community Food Shelf and Great River Rescue, among others.
For the $5 project, Reynolds and her group decided to brace the cold and snowy weather to ask for donations at the Second Annual Beaver Freeze Ice Fishing Tournament that was put on by the University.
The group was trying to raise funds for the Bemidji Chapter of Fishing Has No Boundaries, a local non-profit organization that puts on an event in the summer at Lake Bemidji to help all anglers with disabilities have the opportunity to fish.
By standing by the shore of Lake Bemidji by the University's Outdoor Program Center, they asked participants for donations before they drove out on the lake to get ready for the tournament to begin. Throughout the course of two hours, the group raised ninety dollars for their organization choice.
"The money went towards a good cause so the cold was worth it," Reynolds said, "I'm glad I got the opportunity to do something like this and help people out."
"These projects prove that it doesn't take much time to make a difference," Sea said, "I hope that when they have opportunities to give back in the future that they take those opportunities."