By Matthew Sauser
Men's Ice Hockey
The Beaver's just had to say farewell to one of its best classes of seniors for this men's ice hockey team. What remains is looking to prove to the Western Collegiate Hockey Association & the rest of the NCAA that Bemidji State isn't going to change when it comes to its level of competitiveness.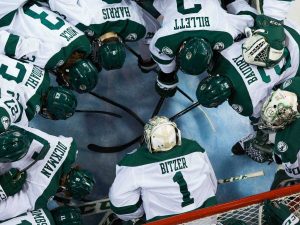 "We're losing some offense. We're losing some of our key players but that's all right," said Coach Tom Serratore when asked about how he plans on dealing with the loss of Goalie Micheal Bitzer and other major assets of the team. "You know some of these guys have to graduate or go pro at some point. You just have to turn the page and that's what we are doing."
Looking to next season, Coach Serratore isn't dwelling in the past. "We had more to give I felt, the year before we were conference champs," he said. The Beavers are looking for players like Brenden Harris and returning experienced players to take the lead of the 2018-19 Beavers. One of the strengths of the team this season is defense corps, one of the leading in the nation, lead by Defenseman Ian Janco, Dan Billett and Dillon Eichstadt. The Beavers also hang on to some of their best forwards like Charlie Combs, Brenden Harris, Adam Brady and Jay Dickman.
The Beavers also got a new-look schedule. BSU will be playing some more nationally renowned programs like St. Cloud State (Nov. 16th, 17th) , Minnesota State (Nov. 23rd, 24th), Merrimack University (Nov. 9th,10th) and the MUST SEE game-of-the-season, home opener on October 12th against the University of North Dakota. The Beavers also continue their rivalries against Michigan Tech (Jan 18th,19th), Bowling Green (Feb. 22nd, 23rd) and Alabama Huntsville (Dec. 7th,8th).
Football
"Grind the Axe!" and "Gang Green Defense" are some of the sayings that make up the fierce identity of the Bemidji State Football team. The team is coming off a 8-3 season with intense excitement after huge wins against Concordia-St. Paul (54-17), Southwest Minnesota State (Homecoming, (40-22), Minnesota Crookston (56-00), U-Mary (45-19), and MSU Moorhead (45-14).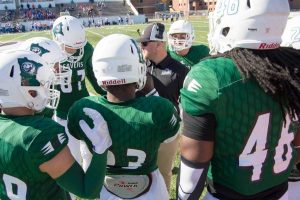 Adding to that intensity its key players smashed records like QB Jordan Hein who passed for 2,073 yards to finish his career with a 8,459 total passing yards putting him atop Bemidji State's all-time leaderboard in passing yards, passing attempts, pass completions, touchdown passes and total yardage. Hein was joined by Alex Burgess, Evan Tompkins, Blake Holder, Christian Lunde, Tahi Nomane, Jake Krause and Jake Wirsching in completing their last season at BSU with winning Northern Sun Intercollegiate Conference awards.
With the 2018 season just weeks away from starting, Coach Bolte and his clan of padded warriors are looking forward to competing against schools like Northern State, Minnesota Crookston, Sioux Falls (Homecoming), Minnesota State, MSU Moorhead and Minot state at home. The Beavers will also travel to U-Mary, Minnesota Duluth, Wayne State, Upper Iowa and St. Cloud State where they're looking to beat those teams on their home turf.
Traveling with those teams will be players who will need to take over major leadership gaps left by those graduated seniors as the team looks to players like Jarden Henning, Michael Junker, CJ Adams and Team Captain Joseph Woods.