by Stacey Kaslon
The President's Student Commission announced the three winners for their first campus-wide Photography Contest for Student Diversity–Simran Karki (first), Saroj Khatri (second) and Sagyan Khadka (third). The winner will have their photograph showcased in the new Center for Diversity, Equity and Inclusion this fall.
Being the inaugural contest, the organizers of the event asked all students to share their photos and describe why they embody diversity at BSU. Representing a wide array of students, the contest was organized by members of the President's Student Commission, a committee of students from across campus who advise the president about how to better BSU.
Sajil Shrestha, student contest coordinator, said that the commission's goal for the contest was to bring students together while sharing their diverse moments. "We asked students to share their pictures with us and describe why that picture represented diversity to them," Shrestha said.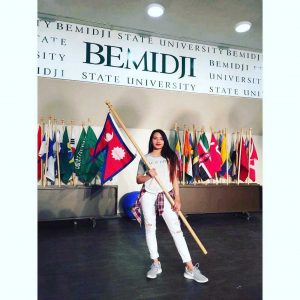 Simran Karki won the competition with "Simran with the flag of Nepal." This picture was taken as a memory of the day when she was able to represent her country in front of all the students.